About the Journal
Journal "Pedagogy of Physical Culture and Sports" ISSN 2664-9837 (Online); title change date: 01/01/2020;
previous title: Pedagogics, Psychology, Medical-Biological Problems of Physical Training and Sports (archives)
The journal publishes articles in the sub-disciplines relating to the broad fields Pedagogy of Physical Culture and Sports: theory and technique of physical training; physical activity and health; sports science; biomechanics; kinesiology; motor control and learning; public health (as relevant to sport and exercise), and physical rehabilitation and recreation. All these fields should be considered from the point of view of pedagogy.
Article Processing Charges (APC) more....
Journal "Pedagogy of Physical Culture and Sports" (Abbreviated key-title: Pedagogy phys. cult. sports) ISSN 2664-9837 (Online)
Continues:
Journal is published 6 times per year (bimonthly: February, April, June, August, October, December).
All articles have DOI (digital object identifier)

All authors have ORCID

Web of Science Core Collection (ESCI), Scopus: See more ►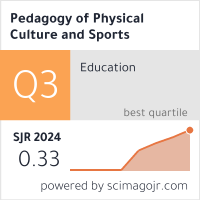 ---